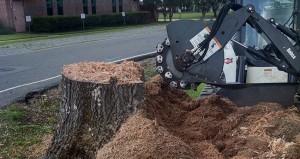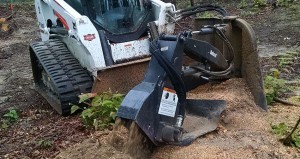 Land Beautification offers stump grinding and removal for trees of any size. Our stump grinder attaches easily to one of our skid steers, allowing us to quickly and effectively remove stumps. High flow hydraulics combined with carbide teeth make our grinder capable of removing any size or type of stump several inches below ground level, eliminating any evidence of the stump.
Why Choose Us?
Stump grinding at Land Beautification is the best option for removing unsightly stumps that can attract termites, fungi and other pests. In addition to avoiding potential problems, such as damage to foundations or pavement, stump removal will save you time and money on lawn maintenance and mowing. 
As with other services offered by Land Beautification, stump grinding is better tolerated by surrounding vegetation than digging and burning. Our powerful stump grinder removes all traces of trees by turning the stump into small chips that serve to fill the void, eliminating the need to bring in topsoil, and can be used as valuable landscaping mulch. 
Stump Gridning Pricing
Measuring the diameter, at the base of the stump, it is $1.00 per inch up to 35 inches. Anything over 35 inches, it is $2.00 an inch. There is a minimum for the stump grinding, as follows:
$200 west of Ouachita river inside Ouachita Parish
$250 east of Ouachita river inside Ouachita Parish
$300 outside of Ouachita parish
Key Benefits of Stump Grinding
 Avoid potential pest and fungus problems
 No digging, filling or burning
 Easier lawn maintenance
 Prevent damage to foundations or sidewalks
 Valuable mulch can be used for landscaping
Our stump grinding team has many years of experience and our customer focused approach makes us the best stump grinding company for your property!
Our stump grinder can grind any size stump leaving behind nothing but chips!
We are committed to providing the best stump grinding services to our customers leaving your property looking beautiful!