At Land Beautification LLC, we offer Brush Cutting as the ideal choice when you need to clear land that has become overgrown with tall grasses, shrubs, plants, small trees and other vegetation. This 80 inch high flow hydraulic brush cutter attaches to our skid steer and can be elevated up to 10 feet. It is capable of cutting up to three inch saplings, making it the ideal combination for  brush too thick for a standard tractor/bush hog set up. If your land has trees larger than three inches, please refer to our Forestry Mulching page for a list of complete services. 
WHY BRUSH CUTTING?
Like our other services, Land Beautification is proud to offer Brush Cutting as an option with several additional benefits. For starters, your grass/brush is cut and mulched, eliminating the need to haul away any debris. This method of land clearing reduces soil disturbance and preserves valuable topsoil. Additionally, Brush Cutting is a cost effective way to ensure clean and tidy surroundings. 
While bidding a job has many factors that must be considered, on average, the rate is usually around $75/hour.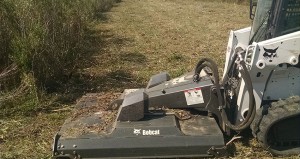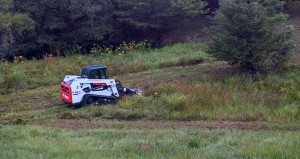 Key Benefits of Brush Cutting
  Aesthetically pleasing end result
  Environmentally friendly
  Cost effective
  Increased property value
  Utilization of existing land